Welding cable often used for welder power and machine application. Besides, welding cable consists of high quality copper stranding conductor. What's more, it often is double insulation in order to used in heavy work conditions. Generally speaking, customer often buy 16mm 25mm 35mm 50mm 70mm 95mm welding cable. Huadong cable as the welding cable supplier, of course we will send you free 25mm welding cable, 35mm welding cable price and other size.

25mm 35mm welding cable price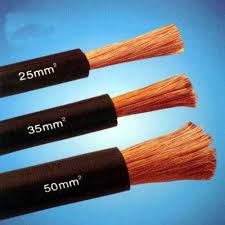 Conductor:  Bare Copper Wire or Tinner Copper wire
Core:  Single Core
Insulation:  PVC/Natural Rubber/EPR
Section Area:  25mm2, 35mm2, 50mm2 and so on
Min. Temperature Rating:  -50°C
Max. Temperature Rating:  105°C
Packaging:  Iron, Wooden Drum or according to your request
Colour:  Black, Red, Orange or according to your requirements
Property:  Ozone, sunlight, weather, oil and chemical resistant
What's the description of 16mm 25mm 35mm 50mm 70mm 95mm welding cable?
Whatever it's different size of welding, but they have same structure. For example, the conductor is copper, double insulation. Besides, according to customer's request, they have blue, orange, red, yellow, black color and so on. What's more, different area customer have different description of welding cable.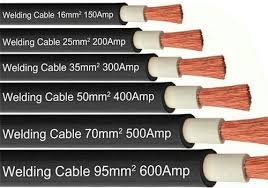 70mm2,50mm2 Flexble Rubber Power Welding Cable Application:
1. These flexible and robust current-carrying cables are suitable for use at high mechanical loads in dry indoors.
2. Welding cable are used for connecting the electrodes to the welding equipment,charger machine and so on.
3. welding cable are suitable for welding equipment,charger machine in industry , in automated welding equipment, in tooling constructions, automobile and shipbuilding as well as for hand-held electrodes in workshops and at building sites.
sales@huadongacsr.com
Such as, 350 mcm welding cable, 250 mcm welding cable, welding cable 500 amp, welding cable 300 amp and so on. In fact, they are the same. Because 16mm welding cable is 175 amp, and 25mm welding cable is 230 amp. Besides, 35mm welding cable is 290 amp, 50mm welding cable is 370 amp, 70mm welding cable is 460 amp. In addition to, 2/0 gauge welding cable, 4 awg welding cable and so on. So whatever you need , we also can send you best price per meter.

Package & Delivery:  25mm welding cable , 50mm welding cable, 70mm2 welding cable are packaged by iron or wooden drum or according to client's requirement.

Customer Case: We have exported our low price 16mm 35mm 70mm 95mm welding cable to more than 30 countries,such as: Russian, America, Yemen, South America, North America, Middle East, Africa, Asia,Oceania countries and etc.



Please leave your message freely, we will send you price within 30 munites.