Technical Data for 2PNCT-B 60sqmm Festoon Cable
Voltage: 0.6/1kV                                                                                                                                 H-Harmonised Approval
Test voltage:                                                                                                                                        3500V  7-450/750Rated
Operating Temperature range:                                                                            -20℃+85℃  R-Natural or synthetic Rubber
Bending Radius :                                                                            15xcable Diameter     N-Polychloroprene(PCP Neoprene)
F-Flexible stranded conductor
| | | | | | | |
| --- | --- | --- | --- | --- | --- | --- |
| Conductor Size mm² | Temperature ℃ | Conductor No./mm | No. of Core | Insulation Thickness (mm) | Jacket Thickness (mm) | OD (±0.1mm) |
| 0.75mm² |   | 30/0.18 | 2C | 0.8 | 1.7 | 4.4*6.8 |
| 0.75mm² |   | 30/0.18 | 3G | 0.8 | 1.7 | 4.4*6.8 |
| 0.75mm² |   | 30/0.18 | 4G | 0.8 | 1.8 | 4.4*6.8 |
| 1.25mm² |   | 50/0.18 | 2C | 0.8 | 1.7 | 4.8*7.6 |
| 1.25mm² |   | 50/0.18 | 3G | 0.8 | 1.8 | 4.8*7.6 |
| 1.25mm² |   | 50/0.18 | 4G | 0.8 | 1.8 | 4.8*7.6 |
| 2.0mm² |   | 37/0.26 | 2C | 0.8 | 1.8 | 5.1*8.2 |
| 2.0mm² |   | 37/0.26 | 3G | 0.8 | 1.8 | 5.1*8.2 |
| 2.0mm² |   | 37/0.26 | 4G | 0.8 | 1.9 | 5.1*8.2 |
| 3.5mm² |   | 45/0.32 | 2C | 0.8 | 1.9 | 5.1*8.2 |
Code Identification for Low price list 2PNCT-B 60sqmm Festoon Cable
1 Core: Black
2 Core: Brown, Blue
3 Core: Green/Yellow, Brown, Blue
4 Core: Green/Yellow, Black, Blue, Brown
5 Core: Green/Yellow, Black, Blue, Brown, Black

What is a 2PNCT cable?
PNCT cable, also called 2PNCT, is a type of capture cable that has a stiff sheath. Undoubtedly, this type of cable is ideal for low voltage electrical equipment in fields, such as construction, farming, and mining, and so on. Besides, tape: The core in the PNCT cable is made of the conductor and the tape. So you can get 2pnct cable price list from us. Email: sales@huadongacsr.com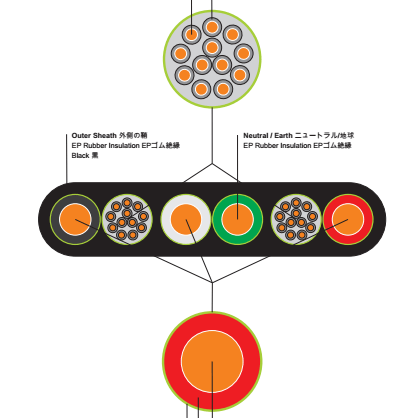 Product Feature:
Voltage: 0.6/1kv
Color: Black or by request.
Conductor: Flexible Copper/Tinned Copper
Insulation: Rubber/EPR
Cores: 1,2, 3, 4, 5, 6, 7, 8 Core
Standard: JIS C3327/IEC/VDE etc
Packaging: Iron or Wooden Drum
Conductor: Flexible Class5 Tinned class5 Copper to be BS6360
Insulation: Ethylene Propylene Rubber (E.P.R). , Type EI 4 to BS 7655
Sheath: CR Rubber-Type EM2 to BS 7655
Please contact freely, we will send you quotation asap!